Neue Produkte Auf Der Messe
Move more with advanced conveyors and sorters
MHS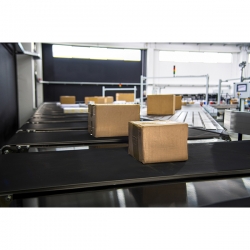 MHS has an advanced conveyor and sorter portfolio and the expertise to design, develop and deliver solutions dedicated to the operational improvement of the parcel environment. The company's mission is to support parcel operators in their increasing need for automation. This refers to higher delivery capacity through more sortation systems at higher throughput, and the ability to handle a wider product mix from smalls to larger non-conveyables in a more automated fashion.

With its sliding shoe sorter, crossbelt sorter and wheel sorter, MHS meets the challenges of many international distribution centers, from large projects to small sites. The HC Smalls Sorter is capable of sorting even the smallest and lightest parcels in the roughest environment and is ideal for companies experiencing the e-commerce boom and growth in small parcel volumes. Likewise, the HC-Loop Double Cell sorter gives operations a solution to reliably handle small items such as flyers, polybags and shoe boxes, while maintaining the flexibility to handle larger packages. It offers the versatility required in a compact, efficient package. With sections of two crossbelt cells, it can work either simultaneously to handle a single large item or independently to handle two smaller items and boost capacity. In addition, PolySort is an automated system specifically designed to handle and sort all the items not included in the standard conveyable parcel range due to their size, weight or shape – the so-called non-conveyable.

MHS's aim is to produce 'state-of-the-art solutions for a seamless logistics future', and this is boosted by its recent merge with distribution company Fortna. The combined company will be able to further support the entire logistics value chain from parcel to warehouse with automation technologies, operational optimization software and omnichannel distribution solutions for end-to-end logistics solutions.