Neue Produkte Auf Der Messe
Intelligent letter and parcel box system
Renz Group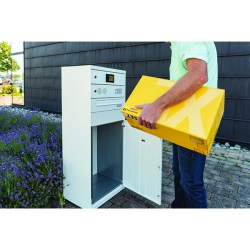 Tired of multiple delivery attempts? Want to avoid annoyed residents and assumptions by the neighbors? The solution is a parcel box open to everyone and everything and, above all, at home at any time. Renz introduces its intelligent letter and parcel box system, myRENZbox.

Located at the front door of any house, or centrally in a residential district, any logistics provider can deliver goods to the myRENZbox or collect them there for return – discreetly, contactless and 24/7. Every parcel can be delivered safely and successfully on the first attempt. All the courier needs is the PIN, which is supplied with the delivery address.

Other service providers, such as food suppliers, bakery services or laundry services, can be connected to the open system. In this way, the myRENZbox becomes the central transfer point of goods and parcels, saving everyone unnecessary journeys and thus saving the environment.

The myRENZbox can also function as a closed system, only operating on one delivery process – or tailored to one logistics provider. In this way, it can meet special requirements and, for example, also act as an intralogistics system in the corporate environment.

Due to the various processes, extensive functions and open interface, there are few limits to the possibilities of the myRENZbox. The intelligent parcel box can become a hub system, a locker system or a central parcel collection point to relieve the pressure on city centers. The opportunities go well beyond the challenges of delivering to the residential area, addressing issues in urban planning, e-commerce, everyday business and the last mile.