Neue Produkte Auf Der Messe
Automation for sortation and parcel processing
Solystic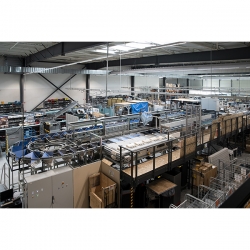 At Parcel+Post Expo in Frankfurt in October, Solystic will showcase its solutions and ability to automate processes in sorting and distribution centers for parcel and postal logistics.

Solystic helps customers by reducing manual operations, ensuring the quality of service, improving working conditions and making urban logistics sustainable. For this purpose, the company is focusing on three points – the digital factory, the sortation capacity and parcel processing automation.

Solystic uses digital transformation to reinforce the value that it provides as a system integrator. The integrator's role is to analyze the clients' needs, provide a plan for automating the process and finally deploy the solution into production. The digital models realized through the Solystic SOSi software accelerate this cycle, additionally enhancing customers' decision making to optimize operations. SOSi creates digital twins of the sorting and distribution centers, replicating over the life of a project the behavior of the physical assets, including simulation and spectacular 3D visualizations.

Solystic also improves sortation capacity. The spectrum of parcels, from the smallest to the largest, is relatively broad and can vary from very light and small (a shoe box or smaller) to very large (including bulky items, sometimes with odd shapes). Solystic has designed a special solution for processing small parcels separately, to free up capacity in regular parcel sortation systems – the Solystic Compact Slide Tray (CST) sorter – named for the type of technology used to assign packets to sorting locations. The CST, designed to fit in small areas, for example in existing centers, can improve the overall capacity of any sortation assets by more than 30%, for much less than 30% of the original value.

A further area is scaling up automation for parcel processing. Despite the large number of automation systems available, the operations in parcel logistical sorting and distribution centers still require significant manual intervention. This is particularly true for upstream operations (feeding sorting machines) and downstream ones (preparing the delivery round). Solystic's solutions help to reduce manual operations in these two critical parts of the value chain. Solystic's robotic induction solution automates the feeding of legacy packets sortation equipment, replacing manual feeding workstations. On the opposite side of the value chain, Solystic can provide solutions for sorting packages at the delivery round level, and preparing the products for final delivery with no need for further manual intervention.