Speaker Details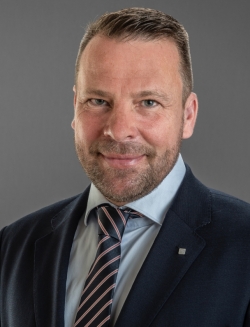 Robert Dohrendorf
Robert is a finance and leadership expert, a visionary entrepreneur and a seasoned speaker. He has more than 20 years' experience working at high-tech startups or supporting them as a coach or mentor. He holds an MBA in international business. In 2014 Robert became CEO of Graphmasters and, in 2018, also its president, driving its growth and international expansion so that even more renowned CEP service providers reap the benefits of Graphmasters' dynamic route optimization: accurate ETAs, reduced mileage/emissions and highly productive drivers from day one coping with the demand increase.
---
Presentation
CEP - how to adapt to a volatile market
CEP services are challenged to plan and execute their operations in an increasingly volatile, uncertain, complex and ambiguous business environment ('VUCA'). For logistics networks, it is of greater and greater strategic importance to include a VUCA foresight into corporate planning and operations. Services that understand and analyze changing scenarios based on a combination of real-time insights and predictions will have dramatic strategic and operational advantages. A new paradigm is emerging here. The integration of non-linear circumstances into corporate planning models will increase the resilience of operators, even in a VUCA world.