Products on Show
Futureproofed and automated logistic package handling
Scape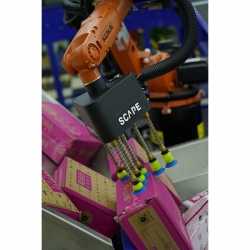 To manage increasing growth in e-commerce and its associated challenges in fast, easy, flexible and reliable handling of goods, business partners and consumers will need to embrace automation. Over the next five years the volume of packages, boxes and envelopes will only increase and will more than double. This will create bottlenecks in distribution centers and put pressure on 3PL goods handling, such as fulfillment centers and warehouses.

Scape Technologies has developed and designed a futureproof automated logistic package handling solution. Scape's automated Package Picker prevents bottlenecks in handling envelopes, parcels or boxes up to 5kg. The Package Picker is a flexible gripper with seven suction cups mounted on a robotic arm, a scanner located above the parcel station that makes a 3D point cloud of the parcels, a newly developed recognition algorithm and software that plans the arm's trajectory.

Scape's Package Picker provides a reliable solution where the robot picks disparate parcels, boxes or envelops with the gripper, one at a time, delivering each item to its final destination – as on a conveyor belt – after which it moves back to the packing station and starts a new cycle. On average, a cycle is completed in two-and-a-half seconds, equating to 1440 packages per hour. The system calculates the optimal path for the robot arm, ensuring fast flow without collision of any kind. The robot does not wait because the recognition algorithm processes data a whole cycle in front of the working robot arm and gripper, thereby securing fast cycle times.

Manual workflows with package picking are characterized by a high degree of monotony and harmful repetitive movements. Errors occur and the pace is inconsistent, creating bottlenecks. This will not happen with Scape's Package Picker.