Products on Show
Last-mile delivery innovations
SwipBox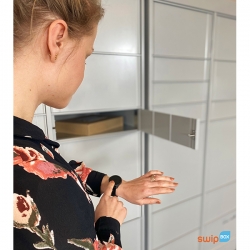 At this year's Parcel+Post Expo, SwipBox will present three new technologies – parcel lockers, its location generator and its LED bracket.

Parcel lockers are still a location game. So far, scouting for new locations has been performed manually, i.e. by sending people out to look for suitable locations. However, later this summer SwipBox is launching its new AI solution, the Location Generator. Using the Location Generator, carriers can search for suitable locations in specified areas. Based on the search criteria entered, the AI tool will use photos from online maps and other sources to generate location results, which will then be reviewed by the carrier.

The carrier enters feedback about the location into the Location Generator, a process that will make the tool increasingly better at generating suitable location suggestions. With this tool, time-consuming location scouting in person becomes a thing of the past, so SwipBox expects this tool to become a real game-changer in the location scouting phase of building parcel locker networks.

Visitors to SwipBox's booth can get a detailed guided tour through its new Location Generator and see the brand-new hardware configurations of its Infinity parcel locker. The company constantly listens to and adapts to the market's needs – it's important to be able to create the very best solutions for everyone involved along the parcel's journey. So, when SwipBox designs new configurations of its lockers, it's done with the starting point of its partners' needs.

In addition to checking out the new configurations and the Location Generator tool, visitors can also find out about the company's new LED bracket which is a plug-and-play add-on to the Infinity parcel locker. It is not just a normal LED bracket, but a bracket with many special features.