Products on Show
Flexible and quiet sorters
Eurosort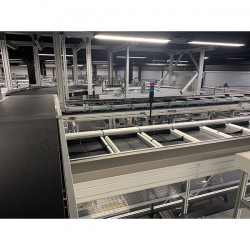 Eurosort started building its Split Tray Sorter approximately 20 years ago, with patented technology. Today, the company's Split Tray Sorter has a proven track record in various industries, the post and parcel industry in particular. Some of the largest companies in the post and parcel industry use its sorters. Therefore, Eurosort understands the challenges that the post and parcel industry have to deal with.

Besides an ever-increasing number of items, packages come in all shapes and sizes. Round, cone, cylinder, flat, thin, nondescript or even magnetic. So how can customers maintain accurate, high-speed single item sorting? Over the years, every time Eurosort was confronted with different customer circumstances, it made adjustments to ensure it could maintain or improve its solution's speed, accuracy and efficiency. To prevent rolling articles from falling off (in corners) and having to be retrieved, it boxed the carriers on all four sides. Besides steel, it also uses stainless steel trays to make sure magnets go through flawlessly. No time is wasted removing magnetic items, thus preventing costly downtime.

Speed is of the essence, but there is one other essential element to keep things moving: people. The health and happiness of operators are of great concern to Eurosort. The materials it uses in all moving parts are very deliberately chosen, to keep noise levels at a minimum. The result is an extremely quiet sorter (60dBA – 67dBA). This means operators can work on the Split Tray Sorter and still talk to each other and/or listen to music, because to Eurosort, it's not all about the output, but the whole picture.