Products on Show
Smart access control for last-mile optimization
Southco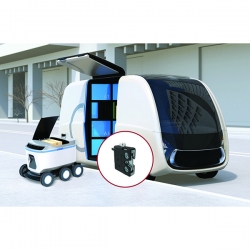 At Parcel+Post Expo, Southco will unveil the new R4-EM-05 Mini Electromechanical Latch, a compact electronic rotary latch delivering next-generation electronic latching capability for the last mile.

Designed alongside some of the parcel and post industry's top players, the engineered latching solution is set to increase the security and functionality of last-mile and smart city technology. In particular, the R4-EM-05 will provide enhanced access control to applications within the last mile sector, including parcel lockers, delivery boxes, cargo bikes and robots.

The new Mini Electromechanical Latch is being considered by major equipment manufacturers for its relative strength, concealed installation and surprisingly small footprint. An added capability of the Mini Electromechanical Latch includes the option to control the lock via a smart device and intelligence to enable communication between equipment software and hardware, offering connectivity to new and future technologies.

Current cargo bike and mobility customers using Southco's range of electronic and rotary latches also benefit from a reduction in incidences of accidental opening of cargo boxes over challenging terrain or under environmental pressures. The locking mechanism withstands the constant movement and vibration which affect delivery bikes in a busy urban environment and has been designed to fit small doors or applications with limited internal space.

Southco will showcase the product and live industry applications at the expo and will be hosting industry partners throughout the expo. It hopes to solve industry challenges and add value to what is becoming a very exciting market.