Products on Show
Recording and sorting solutions for e-commerce shipments
Prolistic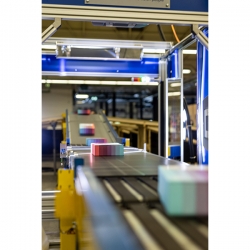 With the E-Sorter and the Procap system, Prolistic and Swiss Sort offer two flexible solutions.

With its high-performance features, the E-Sorter is an ideal recording and sorting system for e-commerce shipments, wrapped goods and parcels. Swiss Sort offers six-side, all-around reading (including OCR and barcode recognition) as well as a double volume measurement as standard. This improves the throughput and reduces the singulation effort and the no-read rate. A calibratable scale and a high-performance labeler ('top-down' or 'bottom-up') complete the configuration options. To select the best sorting technique, the wheel sort and crossbelt techniques are used, individually or in combination. With its specialized IT team, Swiss Sort develops its software itself. This enables individual solutions, for example, interfaces. A maintenance concept with a full guarantee throughout the contract period (up to 10 years) completes the offer.

The Procap OCR/BCR manual capture system is a semi-automated capture and tracking solution for service providers with shipments of all kinds (letter to parcel). The market demands individual solutions, particularly for the mailing mix in the e-commerce segment, which is more complex, unwieldy and increasingly complex to process due to its nature, such as size, packaging, heterogeneity and numerous prints. The new Procap system makes work much easier and saves a lot of time and money in internal logistics. It can be used wherever automated mechanical collection and sorting have reached their limits or where it cannot (yet) be operated profitably due to insufficient quantities.