Products on Show
Courier bike trailers
FlexiModal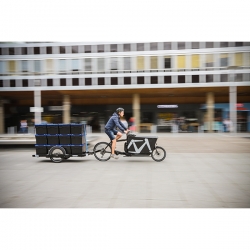 The BicyLift and Runner bike trailers are daily working tools designed for intensive use and aimed at couriers, delivery companies and stores for city deliveries. They are two-wheeled trailers designed for professionals. Therefore, they offer a communication surface on their modules and a multi-position drawbar able to switch from the last mile to the last meter. Both solutions have the same hitching mechanism equipped with an overrun brake. This means that when the bike brakes, the trailer does too.

The Runner is very similar to the BicyLift with the flatbed module. Their difference in width is due to the integrated lifting system of the BicyLift, which gives it a 113cm width compared with the Runner's 89cm. This one is a game-changer when operating within a congested city where bike paths are tight and traffic is dense. The BicyLift can lift pallets and containerized loads in seconds, thanks to its unique and patented lifting system. This lever principle means the weight lifted by the trailer can be divided by eight. The Runner, on the other hand, has a non-slip plywood tray of 165 x 65cm and can easily transport up to 12 standard 60 x 40cm crates. It can lean into a ramp using the multi-position drawbar to load half-containers on castors.

Being modular and having plentiful attachment points for load storage, these solutions can adapt to individual companies' everyday needs. The Runner's two wheels, lowered center of gravity and ground clearance of 18cm ensure good stability while avoiding city obstacles. It easily sneaks around traffic and on bike paths for fast and efficient deliveries.

Both trailers are designed to carry up to 200kg and to accommodate standard EU size formats (120 x 80/80 x 60/40 x 60/40 x 30cm). They are easy to store against a wall and thus reduce the space needed for a fleet of them. Both trailers are designed and assembled with high-quality components in FlexiModal's workshop in Rennes in France. These components include aluminum/steel powder-coated frames that are made in France; 20in wheels with double-walled 650 Mach1 series rims and stainless-steel spokes; Aivee hubs; Schwalbe Pickup 20 × 2.35in tires; and Reelights. FlexiModal works with local companies to reduce environmental impact. Most of the components come from companies situated less than 150km from the workshop.