Products on Show
Parcel induction robot
Equinox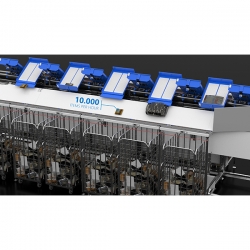 Equinox MHE and Hellebrekers, two Dutch automation companies, have joined forces in launching a new parcel induction robot. According to the companies, the call for automation in the parcel market has never been louder. With parcel volumes rising and the labor market tightening, they assert that the market needs to move fast to maintain a high service level.

As a system integrator in the parcel and postal business, Equinox noticed the demand for automation first hand. "We are an expert in automated sorting solutions and have installations at parcel companies like GLS and DPD," said Mick Verberne, general manager at Equinox. "Our sorting solutions offer a high level of automation, but do not provide a 100% automated system. There are always people needed at the infeed or outfeed."

Couriers and parcel companies are experiencing high pressure on their throughput. At the same time, it's hard to find enough people who are willing to work as operators. Verberne continued, "With companies working night shifts or even around the clock, it's challenging to keep up the high quality standard. Robots have one huge advantage: they never need a break and never get sick. This robot picks over 250,000 items per week in 24/7 operations. We are dedicated to providing a great solution that helps our customers keep up quality while increasing throughput. Parcels come in all shapes and sizes and picking up this variety of items is the real challenge. We collaborated with Hellebrekers to find the best solution for the parcel industry. Things are moving fast and a large international parcel company has already purchased the first installation from Equinox and Hellebrekers. We are confident this induction robot enables a fully automated infeed for our sorters and combines quality with efficiency."

Maurice Ditewig, director of industrial automation at Hellebrekers, explained, "As a technical services provider, we specialize in total solutions for process and building installations. We focus on control systems, software applications and robots. We combine our knowledge of robots, advanced grippers, vision and software and with Equinox's experience in the parcel market combined we form a perfect team." At Parcel+Post expo, the company will demonstrate the potential of a robotic infeed in combination with Equinox sorters.