Products on Show
One-piece multicarrier sorter
Simba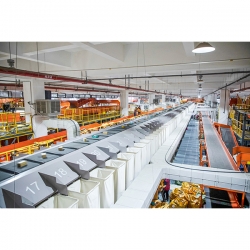 Simba will be exhibiting a Multibelt Sorter prototype, an innovative one-piece multicarrier technology, at Parcel+Post Expo in Frankfurt this October.

The Covid-19 epidemic has accelerated the rate of penetration of e-commerce into traditional retail. This high growth is manifested not only in terms of volume but also in the rapid expansion of the variety of goods being sent. Among the challenges faced by fulfillment centers are high-frequency fluctuations of e-commerce sales and increasingly complex types of parcels. Traditional automated sorting lines are unable to handle oversized and overweight parcels of unusual shapes and have to use pre-sorting to pick them out first. This greatly reduces the overall fulfillment efficiency and increases the complexity of operations.

Simba Multibelt was created to meet this need. Multibelt is an arrangement of equally spaced carries in a vertical loop. The carries are flexibly assigned according to the size of the goods entering the line, and multiple carries move in concert to transport the goods to the designated position and then feed them smoothly into the chute.

Multibelt is an innovative combination of the benefits of numerous sorting technologies. It enables the distribution center to find a balance between expanding the range of incoming parcels and maintaining high sorting efficiency. The technical highlights of Multibelt include a smaller pitch sorter window (200mm); a flexible combination of smaller sorting units for flexible sorting and high efficiency; a synchronous linear motor driver which ensures even distribution of drive forces throughout the line; an infrared communication method to avoid the wear and tear of communication lines and components in small spaces; belt carries to support gentle, smooth action for sorting lightly wrapped soft bags; and a smarter maintenance cabinet for standardized and pluggable ASI, which makes installation and maintenance easy, fast and safe. The flexibility of the Simba Multibelt is demonstrated not only by the types and sizes of parcels that it can handle but also by its functional role in the sorting center.