Speaker Interviews
Speaker interview: Natalia Tomiyama, co-founder, Nüwiel, Germany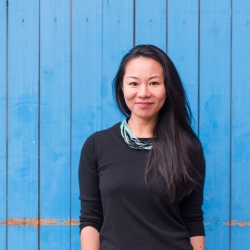 Natalia Tomiyama, co-founder, Nüwiel, Germany, boasts about her company's electrical cargo trailer for city logistics

Describe your presentation.
By 2020, 70% of the world's population will be urban. Anticipating this change, policy makers, politicians and cities are setting up infrastructure regulations and sustainability goals. This global change will affect personal mobility and the transportation of packages, food and even private purchases. Nüwiel is a Hamburg-based startup making electric mobility solutions for urban transportation. Its first product is an electric cargo trailer for bikes, with patented technology. The technology enables fully synchronized movement between the trailer and the bike. Nüwiel will share its success story and experience collaborating with top industry companies including UPS and IKEA, as well as cities.

How is your electric cargo trailer unique in the postal market?
Nüwiel makes an electric bicycle trailer with a safety brake system and patent-pending technology, which enables instant synchronization between the trailer and the bike. That means the trailer accelerates and brakes automatically with the bicycle so the cyclist doesn't make any additional effort when cycling with the trailer.

The trailer can be connected to any bicycle, cargo bike or electric bike in one second. There are no tools required for the connection. Disconnected from a bike, it can be used as an electric handcart inside buildings and pedestrian-only zones. The current trailer can transport 150kg [330 lb] for 70km [45 miles]. The modular design can carry any type of transport box (EUR1 pallet size) with a volume of up to 1m3. So far there is no electric trailer available on the market with the same level of safety and advanced synchronization.




How have you adapted your product to suit customers' needs?
Since Nüwiel's solution is modular, we provide one platform with custom payload solutions. Based on customer requirements, the payload solution can be adjusted to specific needs. We additionally include data analytics as part of our service package. Nüwiel's target market is last-mile logistics with the following segments: post and package delivery (e.g. UPS); retail (e.g. IKEA and small local business); cities and residential areas (e.g. City of Groningen, Mitte Altona Mobility Station); and intralogistics.

IKEA is one of your customers… can you tell us more about the IKEA bootcamp?
In 2017, Nüwiel was one of the top 10 startups selected for the first IKEA Bootcamp out of 1,300 worldwide applications. The Bootcamp ran for three months in Älmhult, Sweden, where the first IKEA store was launched. The bootcamp gave us an opportunity to better understand IKEA's innovation processes, develop internal networks and learn from other startups and workshops. After the Bootcamp, we successfully ran a pilot with IKEA Hamburg Altona and now are integrating our trailers in other IKEA stores.




What needs to happen to deliver a cleaner, greener future for cities?
One way to make cities greener and cleaner in the future is to make goods transportation in the last mile greener and cleaner. Nüwiel's vision is to free cities from unnecessary car use, minimize traffic, and reduce air and noise pollution by offering alternative transportation solutions specifically designed for urban areas. Our core technology can be applied not only to the bicycle, but also other vehicles in the future, thus enabling more flexibility and multi-modality. We are working with companies at the moment but aim to make our products accessible to anyone living in cities. We believe that the new generation of urban mobility should be like the urban lifestyle: flexible, convenient and sustainable.