Speaker Interviews
Speaker interview: Michael Richmond, chief commercial officer, Doddle, UK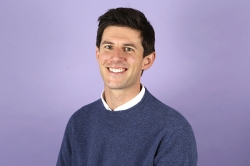 Michael Richmond, chief commercial officer, Doddle, UK, tells attendees how the final mile is changing

What is your talk about?
The days of all online orders being automatically routed to a customer's home are long gone. The final mile has evolved to comprise a diverse range of solutions in an increasingly complex landscape with multiple stakeholders and competing interests. This presentation examines some of the key trends in major e-commerce markets and makes some predictions about what might be coming next.

What are the major consumer and technology trends driving changes in the last mile?
Instant gratification is a big one. Customers' expectations are increasing all the time and there's an expectation today that the moment you check out, you're putting in motion a process that should take hours rather than days, hence the boom in pick-from-store experiences to compete with same-day delivery options.

Customers are also looking for greater control over their lives. They're wanting to be in charge of how and when they receive their goods and looking for ways to incorporate that process into their everyday lives rather than going out of their way to work around delivery.
Retailers need to recognize this by giving their customers a wide range of flexible fulfillment options that can easily fit around lifestyles – the ability to trip chain and collect or return parcels at the same time as doing other tasks such as supermarket shopping, the option to collect from lockers 24/7, and the chance to collect items rather than wait for deliveries at busy times of year.

And of course we can't ignore sustainability as a growing driver. Our own research shows that 50% of consumers say that in the future they'd like to only support retailers that offer a wide range of sustainable delivery options.

In terms of technology, automation is a big trend, with many people in fulfillment talking increasingly about the need for collaborative relationships between humans and robots to achieve optimum efficiencies. The use of intelligent algorithms is also helping to drive efficiencies – for example, with the choice of optimum routes and times – and if used effectively these will also aid the drive toward consolidated, more sustainable delivery. Finally, tech is enabling richer, more tailored customer experiences with smarter, more transparent communications at their heart.




How much has home delivery declined, and how much have other options grown?
Home delivery isn't declining. The market is actually increasing in line with the rapidly growing e-commerce market. But home delivery's share of total delivery volumes is decreasing as today's sophisticated customers increasingly seek out different delivery options and choices that give them greater control and flexibility. So, while the IMRG Click & Collect Report 2018 predicts that the total volume of online parcel orders dispatched by UK retailers for delivery by carriers will grow by 52% between 2017 and 2022, and that home delivery will increase by 51%, it further predicts that click-and-collect volumes will grow by nearly twice as much – by 95%.

How do companies choose the best solutions for their customers?
'Best' is a subjective term and of course there's the constant balancing act between offering what consumers want and what delivers the most profitable experience. The key in our experience is to factor three things into your thinking: First, fulfillment is the final touchpoint of any customer transaction so, as the defining part of the experience, it needs to be seamless, positive and memorable (for all the right reasons). Secondly, choice is everything – it's not just a matter of different customers wanting different options. The same customer will require different options at different points of the year and depending on what their purchase is. For instance, use of click and collect soars around the pre-Christmas peak when the emotional attachment to purchases and presents is at its greatest. At this time of year, customers want to be 100% sure their order will arrive safely and migrate to click and collect from home delivery. Thirdly, a customer's value needs to be understood in terms of lifetime rather than as single transaction. Once customers are viewed in this way, fulfillment is no longer just a logistics cost but instead a key driver of loyalty – with delivery the chance to create a positive lasting impression.




What is on the horizon for last-mile technologies?
In response to customers' demands for greater control over the fulfillment experience, combined with the prioritization of sustainability as a key purchasing decision, we predict a continual shift of technology away from home-centric delivery solutions toward other locations – not all necessarily retail-related. We also anticipate that technology will continue to employ data in more intelligent ways to create more transparency in the fulfillment journey for both customers and retailers. This will drive efficiencies for retailers and control and choice for customers.

The most forward-thinking retailers and carriers will also be looking to balance greater use of automation with technology that enhances communications and creates more tailored offerings. Doing this will help reinject brand warmth into the fulfillment interaction and will make or break future customer loyalty.