Products on Show
Last-mile delivery light electric vehicle
Zoomo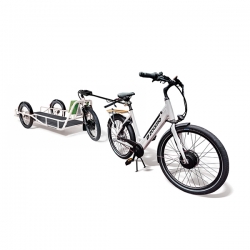 Zoomo is on a mission to transition every urban delivery mile to light electric vehicles. As the e-commerce sector continues to boom and delivery gets faster, enabled by microfulfillment centers, conversations regarding light electric vehicles (LEVs) are increasing as organizations explore different mobility options. As an LEV fleet provider, Zoomo is primed to service this demand across multiple sectors, including parcel delivery.

Zoomo's unique delivery solution offers more than just the vehicle. Zoomo offers a vertically integrated platform that encompasses custom heavy-duty e-bikes, a physical servicing and maintenance network, a software platform for efficient vehicle management and a finance offering.

Zoomo will showcase the Zoomo Zero at the event, an e-bike purpose-built for delivery. Specifically designed for durability, the Zoomo Zero offers practicality and unrivaled safety. Equipped with an electronic lock, four-hour fast charging and an eight-hour battery, the Zero comes packed with the latest software and hardware technologies to make it the most reliable electric bike on the market.

When it comes to cargo capacity, the Zero's frame-integrated rear rack can haul up to 40kgs – with the option to add additional storage (such as front racks and cargo boxes) via Zoomo's accessories offering to help cater to a wide variety of delivery needs. On top of this, the Zoomo Zero has also been designed to tow any trailer. The parcel sector is facing an exciting period of innovation in delivery over the next decade and Zoomo aims to be at the forefront of this innovation.