SOME OF THE NEW PRODUCTS ON SHOW
AI for low-complexity customer service
Orion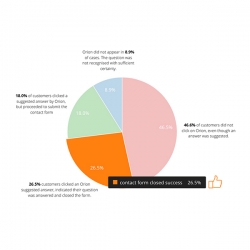 Postal services and other businesses connected to the distribution of packages receive many customer questions. Although the majority of these questions are quite straightforward, it still takes a lot of precious time to respond to all of them.

With one question out of four answered automatically, Orion asserts that companies can accomplish significant changes in terms of customer satisfaction and loyalty, but also in the areas of employee well-being, turnover and hiring costs. The company says that since parcel services rely heavily on e-commerce retailers, the satisfaction of the end customer determines the success of the B2B relationship. Customer satisfaction is closely connected to the time it takes to get a proper answer or solution, so Orion has found a way to filter questions right from the start. When customers start typing their questions into the contact form, Orion's AI can guide them to the right information or the self-service portal immediately.

In other words, Orion's solution deflects standard questions without human interference. That way, customers can get their answers themselves and customer service employees can focus on problems that need extra attention. In addition to deflecting questions or (whenever necessary) preparing them for the agent, Orion can inform customers of waiting times in the latter case. This decreases unease for customers since they have been told when they should expect an answer.

Even in a multilingual environment, the AI can reply to questions without fault. As a native speaker of up to 49 languages, it can give every customer the answers they need in their mother tongue. Frustrations around not getting help in their preferred language often drive customers away. The company reports that its ROI for its clients is no more than a year. The price setting is designed to encourage growth since the setup has a standard price and the monthly fee is intended to be low and not influenced by volume. Avoid mediocre customer experience or even losing clients with this super-easy IT integration. The IT effort to integrate Orion is minimal: get started in 10 minutes.