SOME OF THE NEW PRODUCTS ON SHOW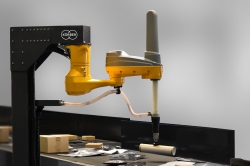 Drawing on decades of experience, Körber Supply Chain Parcel Logistics (previously known as Siemens Parcel Logistics) presents future-oriented technologies and software solutions for the processing of the entire mail and parcel spectrum. Comprehensive customer services complete the portfolio.

Körber presents two of the most important products for efficient automatic processing in more detail: VarioPick – the highly efficient robotic solution for dynamic picking, and Visicon – the speedy solution for singulating bulk streams, together with Visicon Compact, its smaller, space-saving version.

VarioPick: Automatic bulk handling is an indispensable part of processing small items today. However, variations in size, shape and packaging still stretch automated processes to the limit. To improve quality and efficiency, it is essential to sort out difficult-to-handle items as early as possible. This currently requires manual handling, which is not only time-consuming but also cost-intensive. VarioPick is a highly efficient robotic solution for dynamic picking. It is designed to flexibly remove predefined items from a moving 2D bulk stream. Deep learning technology is used to precisely identify the shape and position of the objects. The robot is also capable of determining the optimal gripping point. This and the special gripper design ensure safe transportation.

Visicon/Visicon Compact: The singulator generates a continuous stream of individual shipments arranged one after the other, with a predefined gap. Its variable transport speeds can handle up to 18,000 consignments per hour. The advanced AI-based vision system accurately detects and records the shape, size and relative position of each parcel and forwards this information to the control system. The system calculates singulation parameters to automatically singulate parcels. The smaller Visicon Compact singulates up to 7,000 items per hour on less than 7m2.