SOME OF THE NEW PRODUCTS ON SHOW
Fast dimensioning solution
Rice Lake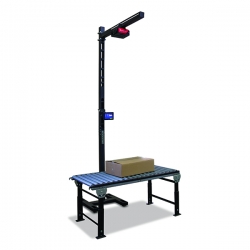 When it comes to calculating the dimensions of boxes, flats, polybags and more, Rice Lake's iDimension Plus is the fastest static tabletop solution on the market. The iDimension Plus helps prevent revenue loss by providing accurate dimensional weight calculations for parcel and postal carriers. To put the iDimension Plus to use right away, simply open and assemble to instantly display dimensions.

The iDimension Plus dimensions parcels faster and more accurately than manual measurement. In an industry-leading 0.2 seconds, parcels are automatically calculated at 5mm accuracy, eliminating the risk of human error. Irregularly shaped packages such as cylinders, spheres, tubes, polybags and uneven shapes are calculated within +/-1.27cm. The iDimension Plus is National Type Evaluation Program (NTEP) certified for single irregular and cubic-shaped non-transparent objects.

The iDimension Plus uses multiple patented 3D imaging technologies with advanced algorithms to optimize time and throughput for static outbound shipments. For objects under 3.05cm, unique flat-detection technology measures envelopes and small packages. Each dimension generates an overhead image for use during claim disputes on damaged packages. A color touchscreen display provides instant feedback, a live image, measurements, weight and operator functions for day-to-day use.

The iDimension Plus XL is specifically designed for integrators to provide flexibility in installing a dimensioning solution anywhere over a conveyor, table or scale from a pole, ceiling mount or support beam. An optional stand is available for ease of integration over a static roller conveyor at 152.91cm (Legal for Trade) or 200.66cm above the platform. The iDimension Plus XL can be used with UPS Worldship and a barcode scanner to add barcode data to process records.