Products on Show
Certified dimensioning on all sorters
Vitronic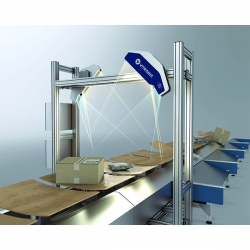 The CEP industry is facing an ongoing increase in shipment volumes, and it's not only during peak season. Precise and certified dimensioning is essential as the shipments are getting smaller and the shape is more and more often irregular. Certified dimensioning is vital for CEP providers to realize automatic invoicing to protect their revenue. Only certified dimensioning is the basis for automatic invoicing and revenue recovery. Vitronic provides dimensioning systems that can detect even the tiniest items from 20mm in height and on all conveyor systems. In-line and with throughput speeds of up to 3m/s the system captures the dimensions and contours of the transported shipments in any rotational position along conveyor systems.

Vitronic's 3D volume measuring system VolumeC HD 3.x is also approved for tilt-tray sorters. Tilt-tray sorters still account for a significant share of conveyor technology in Europe. Tilt-tray sorters slide shipments over electrically or mechanically tiltable transport trays. This type of sorter is particularly suitable for flexible and pliable goods and is therefore commonly used in parcel service providers' hubs and distribution centers and also in airport baggage distribution systems.

With the extended certification, all conveyor technologies can be covered, be it the measurement of shipments on conveyor belts, crossbelt sorters or tilt-tray sorters. This makes the VolumeC HD 3.x one of the most versatile systems on the market. The 3D volume measurement system determines the volume of cuboid and arbitrarily shaped objects using a special camera-based laser scan and thus reliably measures even very small and very flat packages.

The combination of camera and laser-based measurement technology offers the highest measurement accuracy, optimal capturing even in challenging environmental conditions and a maintenance-free system without moving machine components. The latest release, VolumeC HD 3.0, has a new sensor system and improved laser technology. The point cloud density has been improved and non-cubical objects are captured with even greater precision.