SOME OF THE NEW PRODUCTS ON SHOW
Hybrid locker and drop-off module
Kern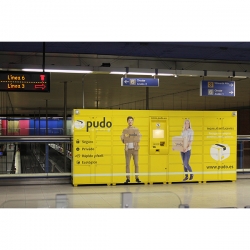 kernTerminal will again be present at Parcel+Post Expo in Frankfurt, showcasing its latest technology and innovations. kernTerminal is a pioneer in the development of intelligent locker technologies and scalable locker networks. Since 2015, the company has been building an independent multicarrier collection and delivery network in Spain, Portugal and Argentina under its own pick-up and drop-off (PUDO) brand. This network currently has more than 1,000 lockers. In addition, kernTerminal sells and operates numerous lockers for major customers in the CEP, retail and government sectors.

kernTerminal offers sustainable technologies that are developed and optimized daily from the company's own customer networks' experience. With the vision to be a world-leading provider of efficient distribution solutions for people, this year, kernTerminal will be showing a selection of its turnkey solutions at its booth. The drop-off module was introduced as a novelty; a module designed for compatibility with all terminal models to enormously simplify the growing returns process. It guarantees that the customer can always hand in their return package. Valuable delivery compartments are saved and the returns process is greatly simplified and accelerated for the courier.

In addition, visitors to Parcel+Post Expo can visit the company's new Frigi Terminal. This includes a compressor in each column, giving each column a configurable temperature that can be adjusted at any time to meet the needs of the customer. In addition, the size of the compartments can also be changed, creating a very efficient refrigerated terminal for all types of businesses.

Another innovation is the kernTerminal Hybrid Locker. This new development can be operated independently with batteries or via an existing power supply. In addition, it integrates various communication technologies, thus ensuring that it can always be operated securely. The logistics market is constantly changing and doing so at increasing speed. kernTerminal is changing the paradigms of goods distribution in our modern society.