Speaker Details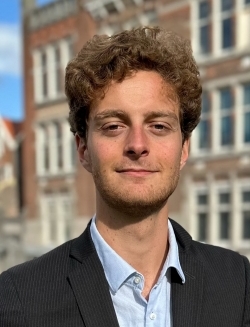 Joes van Stralen
The following speaker is Joes van Stralen, head of Product and Business development for Zipp Labs, a tech company focused on delivering IoT solutions with the goal of achieving First-Time-Right delivery. In this role, he draws upon a broad background in marketing and technology accompanied by multiple years of experience in the Logistics sector, where he has thoroughly researched the Final 50 Feet of Last Mile logistics. He applies this experience and knowledge to find all encompassing solutions catering to the needs of and challenges faced by Couriers, Consumers, E-commerce and Logistics Service Providers in Urban Goods delivery. Today he is here to provide his insights on this segment of Last Mile delivery and to share his vision of a fitting solution with the audience.
---
Presentation
How communication in the final 50 feet ensures first-time-right delivery
25-30% of parcels are not successfully delivered at consumers' doorsteps on the first attempt. Leading to dissatisfied customers, higher Last Mile costs and heavily impacts the customer journeys of E-commerce and Courier services. These issues all arise within the Final 50 Feet of Last Mile logistics, being the walkable distance between the Courier's van and the doorstep of the recipient. Many options such as delivery timeslots, track-and-trace and pickup points exist to counteract these problems, but none are sufficient in the eyes of the consumer. Consumers want to receive their deliveries at home or nearby and seek peace of mind regarding their parcels. The underlying problem of these failed deliveries is a lack of direct, on the spot communication between consumers and their couriers. Zipp Labs developed a solution for this that benefits consumers, E-commerce and couriers alike by ensuring First-Time-Right delivery at the consumer's doorstep.